The Month of Romance is upon us and the exchange of Chocolates, Flowers, Teddy bears and kisses will be common on this day.
What is the History of Valentine's day?
Who is the mysterious saint and where did all these traditions start from?
The origin of Valentine's day is centuries old and there are different stories behind them. Some say it is from ancient Roman traditions and some believe that it all started in Victorian England. Some claim that it a mixture of both.
What is the truth?
Let's begin the dissection.
The Legend Of St. Valentine
The legend of the patron saint is covered in mystery. We all know that February is the month of love and proposal.
But Did you know?
This day contains fragments of both Roman and Christian traditions.
Was St. Valentine a Roman man or a Christian saint?
The Catholic church recognizes a minimum of three saints named Valentine or Valentinus. Furthermore, All of these saints were martyred. According to a legend, Valentine was a priest who served during the third century in Rome. Emperor Claudius II decided that single men made better soldiers. Married soldiers with wives and kids had too much attachment. He issued a law that stopped young men from marriage.
Valentine realized the injustice in this law and continued to perform marriages for young lovers in secret. The emperor found out that Valentine defied the laws and ordered a death issue for him. Some believe that the origin of valentine's day celebration started from here.
But there's more to the Story.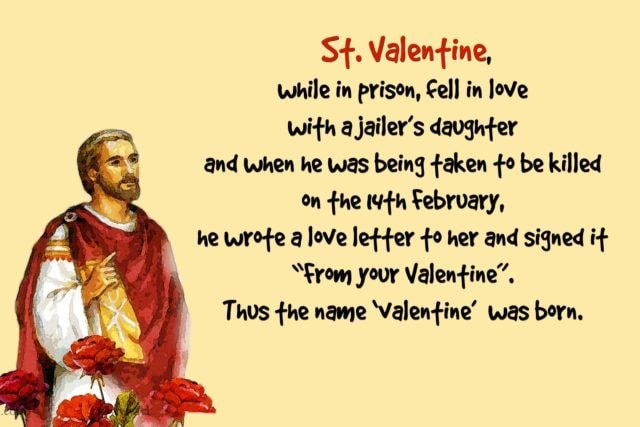 According to other stories, the history of valentine day celebration started because Valentine helped Christians escape from Roman prisons. Valentine and was killed in this attempt. Christians were tortured in Roman prisons.
Valentine was the first person to send "The First Valentine Greeting" to the jailer's daughter. She used to visit him during his confinement. He allegedly wrote a letter to the jailer's daughter signed "From your Valentine", before he was executed. This expression is still used today.
By the middle ages, Valentine became one of the most popular saints in England and France.
Valentine's Day in February
Some believe that Valentine's Day is celebrated in the middle of February to commemorate the anniversary of Valentine's death or burial. While some other claim ha the Christian Church arranged a feast in the middle of February in an effort to "Christianize" the pagan festival celebration of Lupercalia.
This takes an interesting turn because Lupercalia was a fertility festival dedicated to Faunus. The Roman god of Agriculture and the Roman founders of Romulus and Remus as well.
Valentine's Day: A Day of Love
Lupercalia survived the initial rise of Christianity but soon went obsolete as it was seen as "un-Christian" by the end of 5th Century, when Pope Gelasius declared that February 14th will be celebrated as Valentin's day. It was not until much later the day got associated with love.
There is a strong reason behind this. According to common belief in France and England, February 14th is the beginning of the bird's mating season. This can also be a reason behind the day's association with love and romance.
The Valentine greetings are not modern. It started way back in the Middle ages but written Valentine's greetings began only after 14oo AD.
Traditional Valentine's Day Greetings
Most of the countries celebrate Valentine's Day. United States, Canada, Mexico, United Kingdom, France, Australia, New Zealand and India. In Great Britain, Valentine's day gained some real popularity around the 17th century. By mid 18th Century, it became common among friends and lovers to exchange written notes and a small token of affection of all social classes.
This holiday was commercialized in the 19th Century. Printed greeting cards replaced written notes. Printing industry took off after this. Ready-made cards were an easy way for people to express their feelings. Especially for those who can't express their feelings directly. Cheaper postage rates also contribute also encouraged the sending Valentine's Day greetings.
Conclusion
There are different theories regarding the origin of valentine's day. Furthermore, It may be different theories but this day teaches us one thing that everyone deserves love. Whatever the origin of valentine's day may be, the message of this day is perfectly clear, especially with such an awesome message.
Let's make the Slogan "Make love not War" real this Valentine's day and spread love no matter what people say.
The Origin of Valentine's Day – The Legend Of St. Valentine
Thank you for visiting our website and reading the article about The Origin of Valentine's Day – The Legend Of St. Valentine. Please share the article with your friends and family. It's just a click away.
Furthermore, Comment on this post. Especially, It gives us the motivation to write better posts.
Happy Valentine's day.